CEIBS Insights | The 6th Europe Forum Germany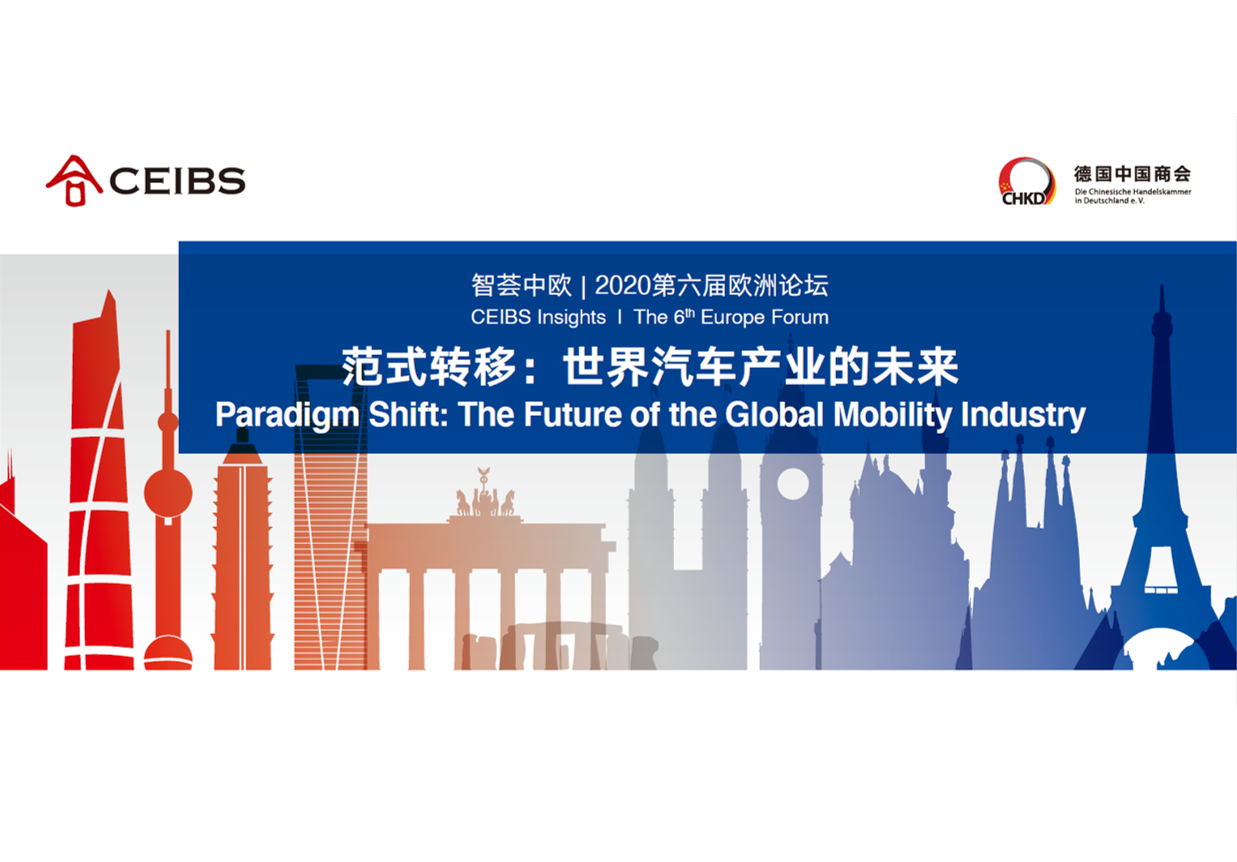 Veranstaltungsort
Online-Event
Uhrzeit
10:00 – 12:00 Uhr
Veranstalter
China Europe International Business School (CEIBS)
Die Chinesische Handelskammer in Deutschland e.V. (CHKD)
Paradigm Shift: The Future of the Global Mobility Industry
Join us online on Friday, November 27, 2020, for the CEIBS Insights 6th Europe Forum series Germany forum on the theme of Paradigm Shift: The Future of the Global Mobility Industry.
Introduction
The deepening of trade and economic ties between China – the world's largest manufacturer – and Germany – a long-established manufacturing powerhouse – has fostered increased cooperation in the manufacturing industry, especially in the automotive sector. According to statistics, Chinese companies' investment in the German auto industry made up 15% of their total investment in Germany in the past decade.
At the same time, the robustness of German cars sales in China this year stands in sharp contrast to generally sluggish demand in the international auto market as a result of the impact of COVID-19. Globally, the auto industry is rapidly brewing up a storm of change, partly in response to the shock of the pandemic and partly due to the industry's transition from internal combustion engine vehicles to smart electric vehicles.
Given the promising prospects for China-Germany cooperation in the auto industry, how should the two sides give full play to their respective advantages and play the role of game changers to seek win-win results and provide new impetus for their next round of economic collaboration?
At the CEIBS Insights 6th Europe Forum series Germany forum 2020, experts, scholars, and entrepreneurs from China and Germany will discuss the roadmap and opportunities for cooperation between the two countries in the automotive industry.
Agenda
———–
10:00-10:05
Host: 
Dr. Robert STRAW
CEO, CEIBS Zurich Campus
Welcome Addresses
Prof. WANG Hong
President, CEIBS 
Professor of Management (Tier-2)
Recipient of the Special Government Allowance of the State Council
———–
10:05-10:25
Keynote Speech I: The Present Paradigm Shift
Prof. GONG Yan
Professor of Entrepreneurial Management Practice, CEIBS
Programme Director, CEIBS Entrepreneurial Leadership Camp
———–
10:25-10:45
Keynote Speech II: Strategy for the Automotive Industry 2035
Dr. Dietmar VOGGENREITER
Senior Advisor, Horváth & Partner GmbH
Former Member of the Board of Management for Marketing and Sales, AUDI AG
Former President, AUDI China
———–
10:45-11:25
Dialogue
Moderator:
Mr. Ivan HODAC
Founder and President, Aspen Institute Central Europe
Panelists:
Prof. GONG Yan

Dr. Dietmar VOGGENREITER
Event Details

Date: Friday, November 27, 2020
Time: 10:00am-11:25am (CET)
Venue: Online (event link to be shared via email prior to event)
Language: English and Chinese (with simultaneous translation)
*Please note, this event will be pre-recorded and streamed online according to the schedule below.